My name is Felix Graf.
I was born in Villingen-Schwenningen, Germany, in 1981. When I was four my family moved to Bad Homburg, near Frankfurt am Main, where I grew up and spent most of my life.
During highschool I developed my interest in movies, art, computers and video games not knowing this would lead to something serious, it was just fun. My best friend and I spent lots of time playing with his high 8 video camera, thinking about funny stories and how to realise them without experience and money. We did our first visual effects by painting lightsabres in a fight sequence we shot and first stop motion animation in a movie with Lego figures.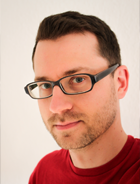 After my civil service and an internship at a webdesign company I started to study at the german filmschool in 2002. Here I was able to bring all my interests in art, movies, computers and animation together. During my time there I learned a lot about every part of making a movie from the first planning to the final product, but animation became my big passion. I made my diploma in 2005 specialised in character animation.
Since 2005 I work as a freelance animator in Germany.
contact:
email: felix.graf[at]normalart[dot]de
download CV as pdf file:
CV